Day One – Monday, February 27, 2017
9:00 AM Meet Bonnie and our guide Judy Goldman in the lobby of the Hotel Dan, Tel Aviv. Have your bags packed and ready to go!
Drive to Caesarea and visit the excavations of the Crusader city, the Roman port, the ancient aqueduct and the amphitheatre
On to the historic walled city of Akko, one of the ancient port cities of Israel declared a World Heritage Site by UNESCO.  Learn about Akko's rich history through its unique buildings, fortresses and fortifications.
Our first meal together will be at the famous Uri Buri Restaurant at the Marina.
Visit the underground crusader city and walk through the old city, mosques and local markets.
On to the town of Zichron Ya'akov and our stunning Elma Arts Luxury Hotel where we will be for two nights.
Private tour of the hotel, the art and the performance venues
Dinner at the Elma Hotel's Oratorio Restaurant
Overnight at the Elma Hotel
Day Two – Tuesday, February 28, 2017
Breakfast at the hotel
Visit a tahina and halvah factory in Nazareth to see how this mainstay of Middle Eastern food is made, using traditional methods and natural ingredients.
Tour Magdala, one of the most significant archaeological finds in the Middle East
Lunch at Magdalena specializing in authentic and modern Arab-Palestinian dishes where the chef will join us to share some of his culinary secrets
After lunch on to a spice farm in Beit Lehem Haglilit, where the Zithershpieler family grows and manufactures medicinal plants and quality herbs
Next a wine tasting and light dinner at Tulip Winery, one of Israel's best and most interesting wineries. Not only do they produce excellent wines, they employ people with a variety of special needs from the nearby community – a winery with a heart of gold.
Overnight at the Elma Hotel
Day Three -Wednesday March 1, 2017
Breakfast at the hotel
Chef Ezra Kedem is considered one of the founding fathers of the New Israeli Cuisine. His restaurant in Jerusalem, Arcadia, that opened in 1995, was visionary. Now Chef Kedem has a private, kitchen studio in Ein Kerem where we will go for a very special workshop and lunch.
Arrive in Jerusalem and check into the Inbal Hotel. Maybe there will even be some time for shopping or a short tour of Mahane Yehuda market.
Dinner at Machneyuda Restaurant, the restaurant that changed the Jerusalem dining scene when it opened in 2009. Not only do they now have a select group of restaurants in Jerusalem, they opened Palomar in London England, that took the city by storm.
After dinner there's a unique graffiti tour where a local street artist takes us through the closed market stalls of Machane Yehuda (the market) to discover the meaning behind the artwork.
Overnight at the Inbal Hotel
Day Four -Thursday March 2, 2017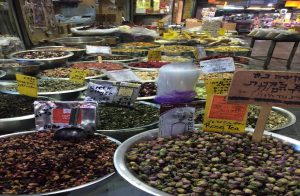 Breakfast at the hotel.
Start the day with a walking tour of Jerusalem's Old City Market with one of Israel's most renowned chefs. Moshe Basson has won awards from Slow Food for his Biblical Cuisine and he is an active member of Chefs for Peace. He is the owner and chef of Eucalyptus Jerusalem.
Lunch in the Arab village of Ein Rafa at Majda, where Chef Michal Baranes and Yakub Barhum opened a Jewish/Muslim restaurant made famous by Anthony Bourdain and Yotam Ottolenghi.
Back to Jerusalem and a light dinner on the roof-top of the historic, Vatican-owned Notre Dame of Jerusalem Center. The views of the Old City are breathtaking.
Overnight at the Inbal Hotel
Day Five – Friday March 3, 2017
Breakfast at the hotel Check out of the hotel and on to the Israel Museum housing the Shrine of the Book with its priceless Dead Sea Scrolls and the new Holyland Model of Jerusalem as it was during the Second Temple Period. Our private program includes a special tour about the history of food in Jerusalem through the generations
Lunch at the Modern Restaurant located in the Museum. The menu will be based on Jerusalem recipes over 100 years old.
drive to Tel Aviv and check into the Dan Hotel
free time and prepare for Shabbat
Welcome Shabbat at a private dinner at the home of Delicious Israel's founder, Inbal Baum. Hear about Inbal's decision to leave a law career in New York to move to Israel and start a business in culinary tourism
overnight at the Dan Hotel 
Day Six – Saturday March 4, 2017
breakfast at the hotel
morning tour of the Design Museum of Holon, one of the world's leading museums of design and contemporary culture.
Lunch at Rama's Kitchen in Nataf in the Judaen Hills is like a wonderful secret. The food is as spectacular as the exquisite views of the surrounding mountains. They feature local, seasonal ingredients and Rama's Kitchen is always considered one of Israel's leading restaurants.
Return to Tel Aviv to visit Neve Tzedek, the first neighbourhood of Tel Aviv built in 1887 and one of the most beautiful.
Enjoy and participate in a talk on Israeli food by Janna Gur, Editor-In-Chief of Al Hashulchan, the leading Israeli food magazine, and author of the books: The Book of New Israeli Cooking and Jewish Soul Food.
A private cocktail lesson at the world famous bar at the Imperial Hotel.
Dinner at Onza Restaurant located at the Jaffa Flea Market where one of Tel Aviv's most popular chefs, Yossi Shitrit, combines the finest in locally sourced ingredients with 'bar' food specialties.
Overnight at the Dan Hotel
Day Seven – Sunday March 5, 2017
Breakfast at the hotel
Meet with Bob Goldman to discuss Israeli Politics. Bob is the former editor of ABC TV news and an extremely well-versed news hound. Have your questions ready – he's very approachable.
Walk or ride to the north Tel Aviv port for a workshop and lunch at the modern Bulthaup Academy with MasterChef winner, Dr. Nof Atamna-
Hear Nof's incredible story and learn her delicious Arab dishes with a modern twist.
Tour the newly renovated complex of Sarona, originally a German Templers Colony founded in 1871. Sarona is the site of the largest indoor culinary market with 91 shops and restaurants.
Baker Uri Scheft and/or his team, founder of Lehamim Bakery in Tel Aviv and Breads Bakery in New York, will lead us in a hands-on workshop of Challah & Babka making. Uri combines Israeli, Danish and French techniques that make his baking different and delicious. We will be able to taste his other specialties during a light dinner at the bakery.
If there's time, and if we have room, we will go down the street to the Bouza ice cream parlor where the Arab and Jewish owners offer diverse flavours such as pomegranate, fig and arak, pistachio, rose, hummus and so much more.  There's always room for ice cream.
Overnight at the Dan Hotel
Day Eight – Monday March 6, 2017
Breakfast at the hotel
Check-out of hotel and meet with Israel's beloved culinary journalist and first celebrity chef, Gil Hovav. A drive up north takes us to the Ajaweed Restaurant where we experience, food cooked in fire pits and includes lunch and a lively demonstration.
Return to Tel Aviv for a short walk along Rothschild Boulevard known for Bauhaus style buildings.
Our final dinner will be with Chef Sabina Valdman, considered the mentor of many Israeli chefs, to learn her amazing home cooking recipes and tips.
              Our tour is over, but our memories will last forever.
HOTELS:
Hotel Elma Zichron Yaacov – 2 nights Classic Rooms
Hotel Inbal Jerusalem – 2 nights Superior New City Rooms
Hotel Dan Tel Aviv – 3 nights Deluxe Rooms
YOUR LAND TOUR INCLUDES:
* Feb 27 Pick-up from the Hotel Dan Tel Aviv
* 8 full days of transportation in an air-conditioned vehicle
* 8 days of sightseeing with an English speaking guide
* Meals according to the itinerary
* Wine with meals where appropriate
* Evening transfers to restaurants
* Entrance fees as per the itinerary
* 7 nights' hotel accommodation at the above-mentioned hotels based on double occupancy on a bed and breakfast basis
* Free WIFI on the bus and in hotels
*All tipping is included except housekeeping at the hotel
YOUR LAND TOUR DOES NOT INCLUDE:
Airfare to and from Tel Aviv not included
Departure taxes, fuel surcharges and airport improvement fees
Insurance – A copy of your valid out of country health and travel insurance is mandatory
Arrival and departure transfers from and to Ben Gurion International Airport
Early check in – late check out at hotels
Single supplement quoted separately
Tipping for housekeeping at the hotels
Items of a purely personal nature such as room service and valet service
Any other services not mentioned
E.& O.E.
LAND PRICE BASED ON DOUBLE OCCUPANCY – $5695.00 US PER PERSON
SINGLE SUPPLEMENT $820.00 US (limited number of single rooms available)
The above land price is based on a minimum number of participants. Should the number of participants booked fall short of the minimum number required, an additional supplement may apply. Should this occur, participants booked will be notified and will have the option to withdraw at no penalty.
The above itinerary is based on current tariffs and rates of exchange which are subject to adjustment where necessary. The day by day program is subject to change at any time due to unforeseen circumstances that are beyond Aufgang Travel's control. Every effort will be made to operate the tour as outlined, but alterations may occur after the final itinerary has been issued.
Ontario Travel Industry Act – TICO # 50012754.