View Our Accessible Travel Tours
Destination specialists to Israel since 1949, Aufgang Travel also provides a wide range of accessible travel services for travelers with special needs.  Having the skills and knowledge needed to organize the most complex tours, it only made sense for us to join forces with Israel4All so that people with special needs could travel to Israel regardless of their limitations, disability or age. We understand the special requirements needed for travelers with sensory, mobility or emotional issues. Our mission is to make tourism to Israel available to everyone.
| | |
| --- | --- |
|    Scooter and wheelchair users |    Limited walking and slow walkers |
|    Deaf and hearing impaired |    Blind and visually impaired |
|    Other disabilities | |
TOURS FOR SPECIAL NEEDS
We offer a variety of accessible travel tours ranging from 5 -14 days designed for people using wheelchairs and scooters as well as slow walkers and the visually and hearing impaired.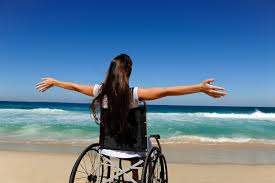 Individual – we can customize a special accessible travel tour to meet your specific requirements.
Group tours are based on a minimum of six people.
Wheelchair accessible transportation.
Knowledgeable and experienced tour guides.
Accommodation – wheelchair accessible hotel rooms, private apartments, and private villas for long and short term stays
Hostels and Church guest houses
SERVICES & EQUIPMENT RENTAL
Day tours by wheelchair accessible van + driver-guide (or driver and guide)
Manual Wheelchairs
with removable feet and armrests
Day tours for the blind including transportation for up to 10 people.
Power Wheelchair
Electric Scooter
Commode
Shower  wheelchair with small wheels, adjustable armrest and leg rest
Hoyer lift – up to 330 pounds
(sling can be purchased separately)
Electrically Adjustable bed with 8 positions
Oxygen equipment
Portable ramp
Transportation by wheelchair accessible van
Helper for private services
DAY TOURS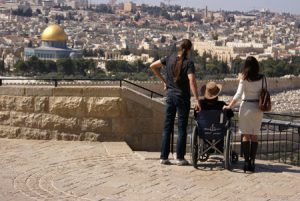 We can arrange day tours to the most important sites and regions in Israel with an experienced driver/tour guide with a minimum number of participants. We also offer customized and private tours.
Day tours can be arranged in Jerusalem, Tel Aviv, Caesarea, Haifa, Acre, Tiberias, and Nazareth. Learn more about our Accessible Day Tours.
TOURS WITH CHILDREN – BAR/BAT MITZVAH CELEBRATIONS
We invite you to visit Israel with your family whether it's just a family vacation or to celebrate a Bar/Bat Mitzvah. Although many refrain from celebrating this special event at the Wailing Wall or Masada because of a child's disability, we can arrange a special tour accessible by wheelchair or walker giving your family the opportunity to celebrate this joyous occasion. The pace of the tour will be slower and will be designed to accommodate your special needs.
SHORE EXCURSIONS FROM HAIFA AND ASHDOD
Visits are based on ability, personal interest, and time limitation. The van is equipped with a lift and is able to take 3 persons in wheelchairs and 5 people without wheelchairs. Our English speaking tour guide/driver is experienced with working with people with disabilities and special needs. Equipment such as wheelchairs (electrical or manual) as well as scooters is available for rental.
Click here for details on excursions from Haifa.
Click here for details on excursions from Ashdod.
SPECIAL NEEDS CRUISING
Cruising has become an increasingly popular option for travelers with special needs, for once onboard the ship, most modified cabins are accessible by elevator and your suitcase is only unpacked once. These conveniences alone make cruising a rewarding and accessible option.
We understand that travelers with special needs have concerns that other cruisers may never have to take into consideration. We can recommend several interesting itineraries and cruise lines and can arrange a cruise vacation especially for you.
Accessible Travel services in other countries can be arranged on request. Contact us for more information.