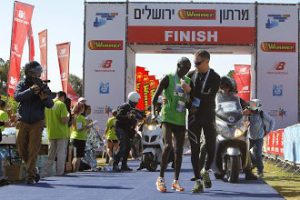 WE INVITE YOU TO JOIN THE CANADIAN TEAM AS WE RUN TO THE FINISH
AT THE 8TH JERUSALEM MARATHON

APPLICATIONS NOW BEING ACCEPTED
This is the perfect spot to fill out on your 2018 marathon race card

The Eighth International Jerusalem Winner Marathon will take place in Jerusalem on Friday, March 09th, 2018. This challenging event is Israel's largest marathon and features several different tracks. Roads will be closed as the Marathon Day involves the entire city. From 645 AM until 200 PM thousands of runners will run by historic sights paying homage to the history of Israel's capital while being cheered on by the residents of the city. 2018 is guaranteed to be an exciting year. Over the years, thousands of runners from all around the globe have travelled to Israel to participate in the Jerusalem Winner Marathon and every year, the number of runners has increased over and over.