The Ghetto Heroes Monument is a monument located in Warsaw, Poland. Ir commemorates the Warsaw Ghetto during the Second World War.
In 1940 Several Warsaw districts have been announced a special zone. Only Jews could live in that area.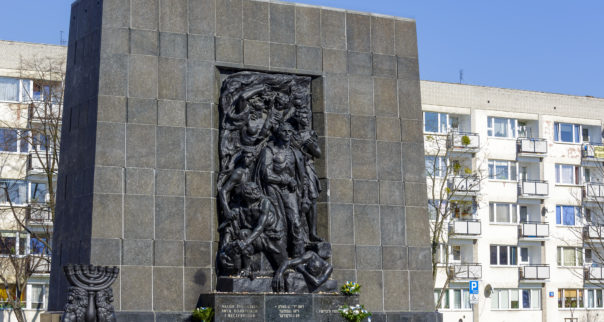 It happened straight after Poland occupation by Germany. The decision to make a Warsaw ghetto has been made in October of the same year. With more than 500 Jews, this ghetto became the largest in Europe.
In 1942 people began to be taken out to the death camp "Treblinka." Among them, there was a famous teacher, the doctor and the writer Janusz Korchak who refused to abandon pupils of the orphanage.
The Warsaw ghetto had been liquidated in 1943 after the armed revolt. Today the Monument to Heroes of a ghetto is established on on the square located between Anelevich, Levartovsky,Zamengof and Karmelitskaya's streets.
The sculptural composition is 11 meters high. It was opened in 1948.