You probably have never thought about Israel as a destination for SUP boarding; nonetheless, this sport is gaining a lot of popularity in the Holy Land.
Israel is a perfect place to Stand Up Paddle as the country has multiple locations for doing it: in the Mediterranean on the western shores of the country, the Sea of Galilee in the northern part of Israel, the Dead Sea in the northeast, the Gulf of Aqaba in the Red Sea to the south, and in the Jordan River in the East.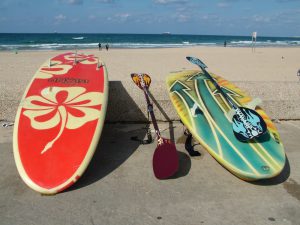 Basically, opportunities to try SUP boarding are all over the territory of Israel. So, during one visit there, you could experience 3 or 4 water excursions.
Moreover, to diversify your SUP experience you can try popular companion activities such as fishing, yoga, weight loss & fitness training, nature exploring, sunbathing, SUP surfing and many more. Israel is a place where multiple SUP courses are available for beginners. There are a number of options and programs to consider; you decide the best choice for you to enjoy beautiful views and communing with nature, or amazing sport and recreation activities, or spiritual and meditation practices. Some good news is you can even bring your pets with you. Stand Up Paddle boards are spacious enough to bring your kids, animals, and a bag with all necessaries.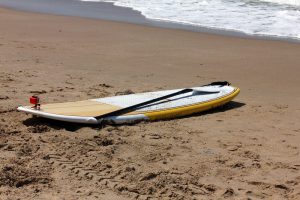 SUPs are not dangerous; the sport is safe and calm compared to others like wind-surfing, kite-surfing, and aqua biking. However, you should remember that it is necessary to know some rules before engaging in this activity. We suggest you take a course (sometimes it is already included in a SUP program) and learn how to kneel on the paddle board. These are the must-know essentials for every beginner (especially if you plan to take your kids or animals with you):
Self-rescue and safety techniques
Basic turns and maneuvers
Paddling techniques
Flat water paddling techniques
How to carry the equipment
Even if you have already decided to visit Israel to sample the wonderful local cuisine, visit historical sites, and explore the most famous cities, you should also include SUP boarding on your agenda. This fantastic experience you will leave with special memories of the trip. It's hard to imagine a better way to explore the natural beauty of Israel's coastal terrain and enjoy its hidden crannies that are not visible from shore.