Day 1. Monday. Arrival in Paris
Welcome to France! Upon your arrival at the airport, you will be greeted by your Tour Director – a treasury of French-Jewish insight and information. After checking into your hotel, enjoy an afternoon sightseeing tour of Paris. Many people think it is the most beautiful city in the world, and with good reason (Washington DC and St. Petersburg are both based on its splendor). You will see the stately Champs Elysees, Napoleon's Arc de Triomphe, the Place de la Concorde, the Madeleine Church, Opera House, Place Vendome, Montparnasse, Isle de la Cite, the Latin Quarter, and bustling, artsy Montmartre. And, of course, you'll see the Eiffel Tower, perhaps the most iconic landmark in the world. This evening, enjoy Dinner and settle into the sensuous, fairy-lit glory that is Paris at night.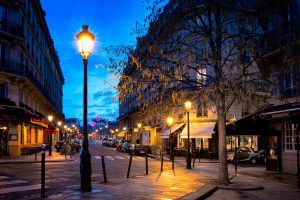 Overnight in Paris at Victoria Palace Hotel. (D)
Day 2. Tuesday. Paris
Breakfast at the hotel. Today, embark on a walking tour of Jewish Paris. Highlights include the Marais district, once a wholly Jewish enclave (or ghetto – "marais" means "swamp") and now a chic address, the Holocaust Memorial, and the Museum of Jewish Art and History.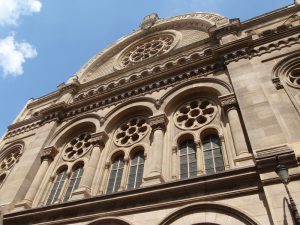 Many famous artists came from or studied in France – among them Amadeo Modigliani, Marc Chagall, Sonia Delaunay, Camille Pissarro (who is considered the father of Impressionism), and Chaim Soutine. Gertrude Stein, the Jewish- American author and saloniste who promoted the works of Picasso and Braque, is part of this glorious lineage. No one who came to Paris in the early 20th century (Including Hemingway and Fitzgerald) truly belonged to the city until she, its American-Jewish patroness, embraced them. Lunch is served during the tour. In the afternoon, return to the hotel and enjoy the remainder of the day at leisure.
Overnight in Paris at Victoria Palace Hotel. (B, L)
Day 3. Wednesday. Paris
Breakfast at the hotel. Today, embark on a visit to Museum Nissim De Camondo, a gorgeous home built in 1911 by a Jewish count, and housing his priceless treasury of furnishings and art. The house is kept in its original condition. Lunch.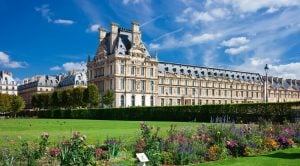 In the afternoon, enjoy an insider's introduction of the highlights of Louvre. Later, choose to extend your stay at the Louvre or enjoy the remainder of the day at leisure. Choose to explore this vast treasury of art, stroll the chic Parisian streets, stop for a cup of coffee at a sidewalk cafe – or do all three! Parisians spend hours at cafes, people-watching, thinking, reading, and sometimes writing. Jean-Paul Sartre, the father of existentialism (and author of a landmark book on anti-Semitism) was a famous example.
Overnight in Paris at Victoria Palace Hotel. (B, L)
Day 4. Thursday. Paris – Versailles – Giverny – Paris
Breakfast at the hotel. Today, leave the city and explore the splendors of the Palace of Versailles.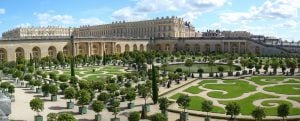 No one does "magnificent" quite as well as the French, and Louis XIV (the Sun King) was the most splendid and flamboyant monarch of all. In Yiddish, on the other hand, some might call the gilded style "oisgepotchket." The French have a nice phrase for these differences of opinion: "Chacon a son gout" – each to his own taste. In any case, the French Revolution brought an end to these regal excesses, which, ironically, the French still do (and preserve) so well. Lunch. Next, travel on to the gardens of Giverny, which inspired impressionist artist Claude Monet.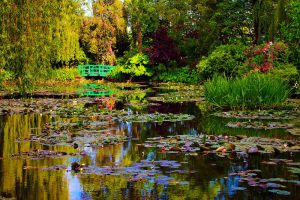 These beloved floral plantings, water features, and small bridges seem so humble, and yet world-class paintings emerged from the eyes and hands of the artist who observed them. Now it's your turn to enjoy the splendor. Return to the hotel in the late afternoon.
Overnight in Paris at Victoria Palace Hotel. (B, L)
Day 5. Friday. Paris – Avignon
Breakfast at the hotel. This morning, transfer to the Gare de Lyon and board France's fastest train – the TGV. It will take you to Avignon, heart of Provence, and once, for a brief moment, a Papal seat.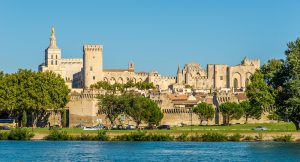 In the afternoon, embark on a walking tour of Avignon, including the scenic old Jewish Quarter and Synagogue. As the sun sets, embrace the spirit of Shabbat along with the taste of local wine. Friday Night Dinner.
Overnight in Avignon at the Hotel De L'Horloge. (B, D)
Day 6. Saturday. Avignon – Excursion
Breakfast at the hotel. Today, you have the option to enjoy a day of rest – punctuated with a short stroll, if you like — or join an excursion into one of the most beautiful areas of Provence with rolling hills and scattered villages set among the colors of the lavender fields and the rows of grapes ready to magically be turned into wine. Enjoy a stop in a typical Market Town, with an abundance of fresh produce and local specialities.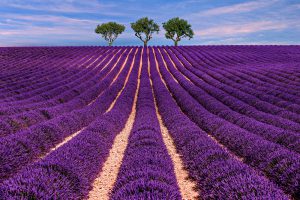 Provence is a center for cheese-making and fine wineries, and you will have an opportunity to taste some of these wares, along with a Provencal lunch, boasting the freshest produce you can eat. Return to Avignon in the afternoon.
Overnight in Avignon at the Hotel De L'Horloge. (B, L)
Day 7. Sunday. Avignon – Carpentras – Cavaillon – Avignon
Breakfast at the hotel. Today, travel to the towns of Carpentras and Cavaillon.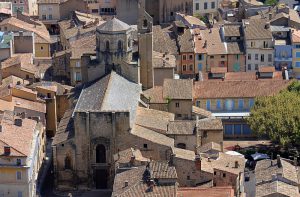 Both of these locales are of major Jewish historical significance and boast centuries-old synagogues. The one in Carpentras, built in 1367, is in fact the oldest active synagogue in France, and it is Sephardic. You will also visit the Jewish museum, and learn about the papal period in Provence, and its relation to the Jews (who were known as "juifs des papes"). Lunch is served during the tour. Return to Avignon in the afternoon.
Overnight in Avignon at the Hotel De L'Horloge. (B, L)
Day 8. Monday. Avignon – Arles – Montpellier – Avignon
Breakfast at the hotel. The city of Arles is mostly associated with Vincent Van Gogh, but it is also a major piece in the mosaic of French-Jewish culture. Today, you will tour Arles, a major Jewish center between Roman times and the Renaissance, due to its location between Spain and the rest of Europe.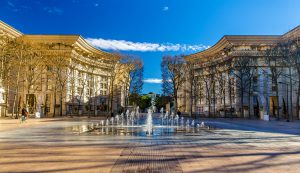 You will also visit Montpellier, a gracious coastal city that many prefer to Marseilles. Sights include the Jewish Quarter, and the oldest Mikvah in all of Europe, dating to the 12th century. (The first things any Jewish community needs are a mikvah and a cemetery.) You will also see the oldest medical school in the Western world. Return to Avignon in the afternoon. Farewell Dinner. Hotel De L'Horloge.
Overnight in Avignon at the Hotel De L'Horloge. (B, D)
Day 9. Tuesday. Avignon – USA
Breakfast at the hotel. In the morning, board the TGV train to Charles de Gaulle Airport for your journey homeward. (B)
2018 Tour Dates:

August 27 – September 4
Land package price:
$ 3,690 USD per person based on double occupancy
$ 1,270 USD Single supplement
Land cost includes:
Transfers, sightseeing & touring in¬ deluxe air-conditioned coaches.
Luggage handling at all hotels.
First Class hotels.
Meals: 8 Breakfasts, 5 Lunches, 03 Dinners.
TGV train From Paris to Avignon.
TGV train from Avignon to Paris.
Complete program throughout.
Meeting with local communities.
Expert Tour Director.
Friday Night Dinner in Avignon.
Your land cost does not include:

International flights
Departure taxes/fuel surcharges or airport improvement fees subject to change without prior notice
Travel insurance – non-refundable insurance premium
Documentation including passport fees
Early check in and late check out
Single room supplement – a limited number of single rooms is available on payment of supplement
Optional pre-, post or other private tour arrangements
Services not mentioned
Meals not mentioned
Beverages not specified
Gratuities for individual services such as laundry and valet service or any other items of a purely personal nature
Tips to drivers/local guides/hotel and restaurant staff – tipping is at the discretion of the traveler
E. & O.E.
*
Hotels:
Paris, 4 nights – Victoria Palace Hotel
Avignon, 4 nights – Hotel De L'Horloge
Note:
Although airfare is not included in this program, we are able to suggest economy class round trip airfares. Please note the airfare suggested is subject to change without prior notice and is not guaranteed until such time as the ticket has actually been issued.
A similar program can be custom tailored for individuals based on sightseeing program by private car.
No visa is required for travel to France. Always make sure your passport is valid for at least 6 months after the tour ends.
We can accommodate pre/post tour arrangements in conjunction with this departure.