Day 1. Friday. Arrival, Shabbat Dinner Home Hospitality
Arrive at Ben Gurion International Airport where you will be met by our representative. You will be driven to Jerusalem in a comfortable air-conditioned vehicle with plenty of room for luggage.
"The view of Jerusalem is the history of the world; it is more, it is the history of earth and of heaven" (Benjamin Disraeli). Traditionally earth's appointed meeting place with heaven, Jerusalem is a city of uncanny spiritual energy, profound creativity, and radical ideas.
Once you've had a chance to freshen up after your journey, you might like to head to the "Kotel" (Western Wall) to see the lively singing and dancing to welcome Shabbat to the holy city of Jerusalem (this part of the evening is optional and unguided).
Shabbat Dinner Home Hospitality.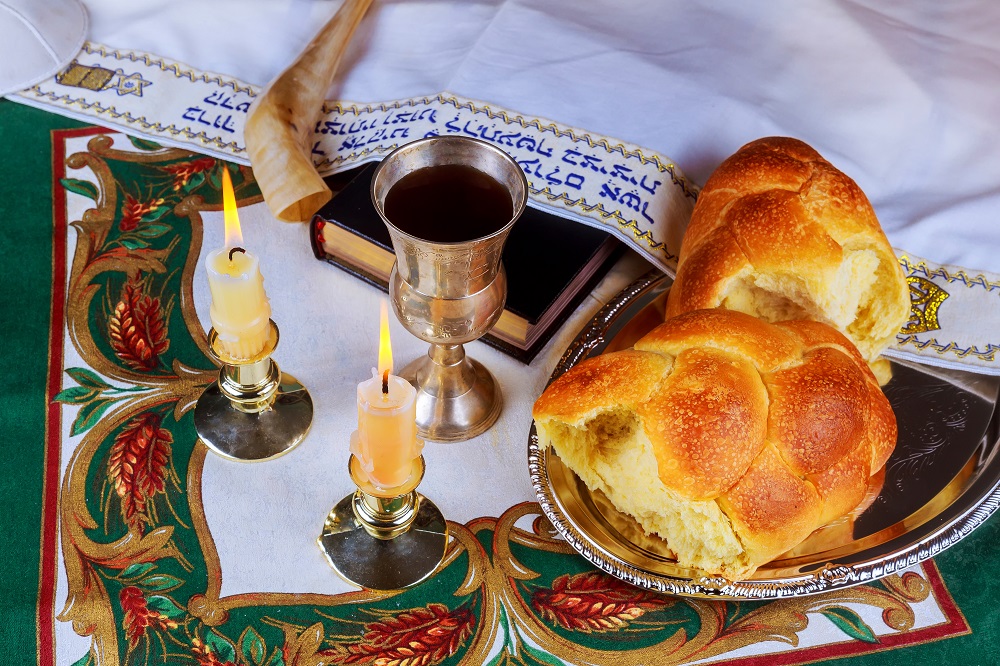 Your guide will then escort you to a home hospitality dinner where you will enjoy your first meal in Israel as a group. Throughout the traditional Shabbat dinner in the home of a local Jewish family you will gain an insider's view of the meaning of Shabbat in a Jerusalem home. This evening, food will be plenty and conversation is sure to be lively!
Overnight in Jerusalem at a hotel.
Day 2. Saturday. Old City of Jerusalem
Private Guided Day Tour – with vehicle
Start time: 9:00 AM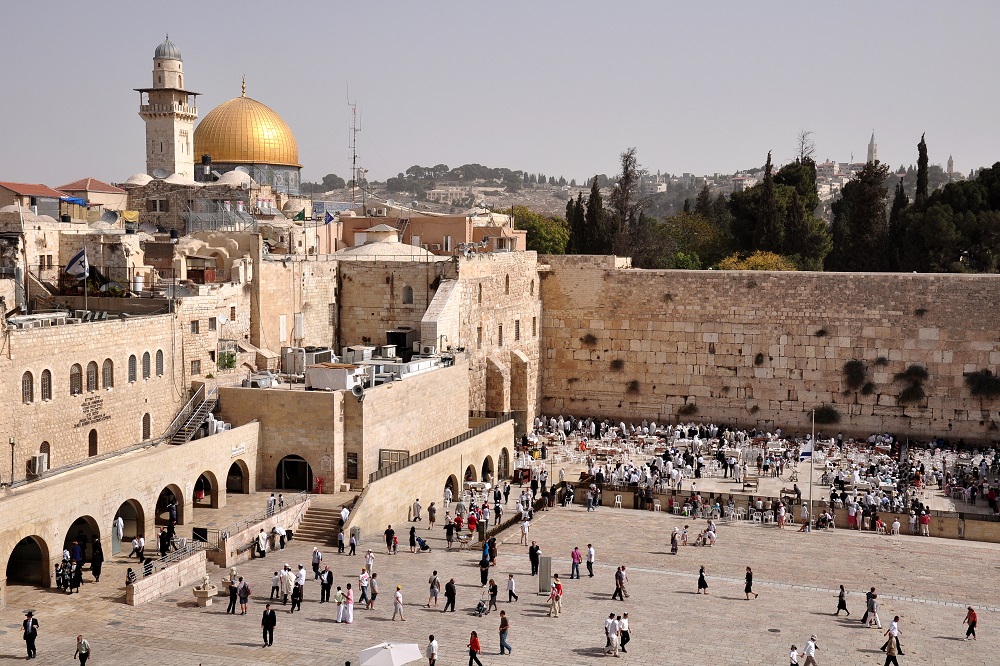 Today is your tour of the Old City of Jerusalem. You will be introduced to this place of intense sanctity to Jews, Christians and Muslims, where holy sites tumble over each other. Your expert guide will unpeel layers of history and provide an overview of what Jerusalem means to the three monotheistic religions.
The Luxury Small Group Tour to Israel includes visit the sites most holy to the non-Jewish faiths as well. You will  see the Church of the Holy Sepulchre, for Christianity and you will visit or view the Dome of the Rock for Islam. You will then explore the Jewish heritage of the Old City in more detail, from First Temple period remains in the shape of the fascinating 'Broad Wall', to Second Temple times and the Kotel (Western Wall) and Cardo (the main street during Roman times), to the Hurva Synagogue first built in the eighteenth century, all the way through to the 1967 war and beyond.
Overnight in Jerusalem at a hotel.
Day 3. Sunday. Masada National Park, Ein Gedi National Park, Dead Sea
Private Guided Day Tour – with vehicle
Start time: 8:30 AM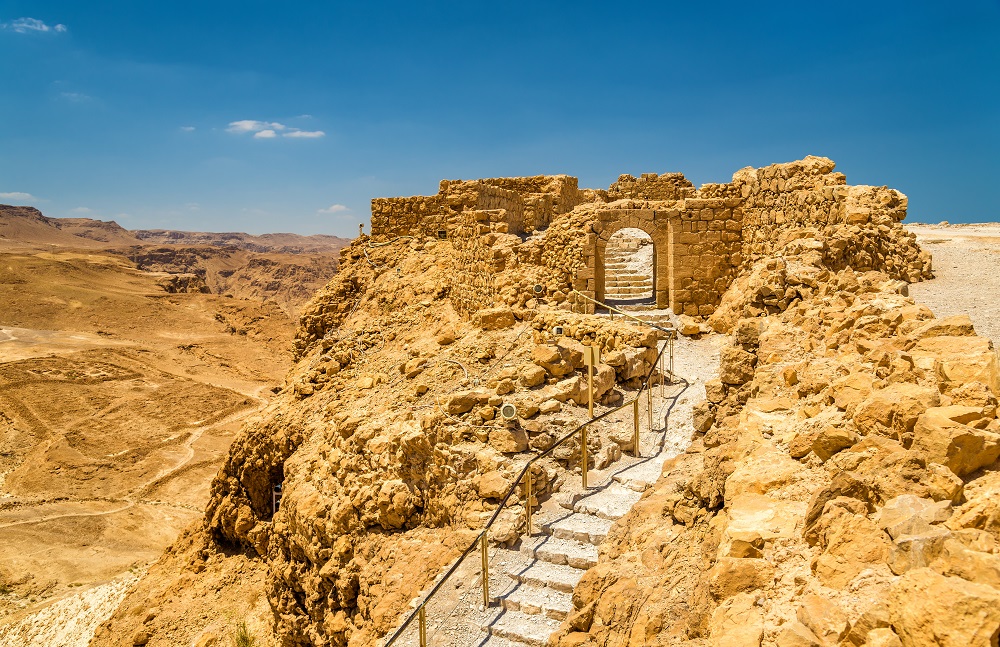 This morning your guide will meet you in the lobby of your hotel – we recommend an early start to beat some of the desert heat! Arguably Israel's most dramatic site, Masada's mountain top ruins, set against the extraordinary backdrop of the Judean desert, are but a stage for the retelling of a heroic and ancient tale, now engrained in national mythology. With your expert guide as storyteller, you will hear about the lives of the final Jewish resisters to Roman rule, relive their struggle against the mighty Roman army, and wonder at their heroic end. Masada is a totally unique site, well deserving of its UNESCO world heritage status.
Cool off from the desert heat at Ein Gedi, this glorious, green oasis in the middle of the Judean desert, significant as David's hiding place from King Saul. Natural spring water cascades over a series of ledges in the desert rock, creating waterfalls and fresh water pools, perfect for hiking and swimming through. The springs give life to palm trees, bulrushes, and tropical and Mediterranean plant life, which together produce the sweetest of scents. Watch out for the hyraxes, ibexes, and many native bird species as your guide leads you along the family-friendly Nahale Davide trail.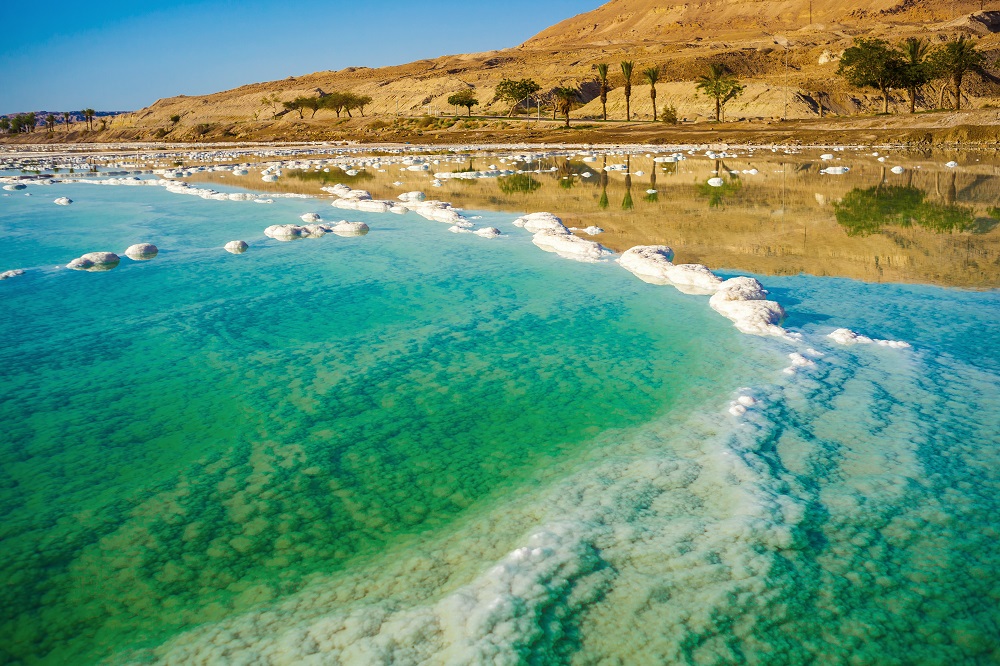 The waters of the Dead Sea shimmer like nowhere else on earth. Best of all, here you really will float! Full of good-for-you minerals and surrounded by air which is naturally rich in oxygen, the Dead Sea should leave you feeling full of energy. Please take flip flops along for the Dead Sea, and avoid taking your best bathing suits as the minerals in the water may damage the material.
Overnight in Jerusalem at a hotel.
Day 4. Monday. Yad Vashem, Yehuda Market Tour, Israel Museum and Knesset
Private Guided Day Tour – with vehicle
Start time: 9:00 AM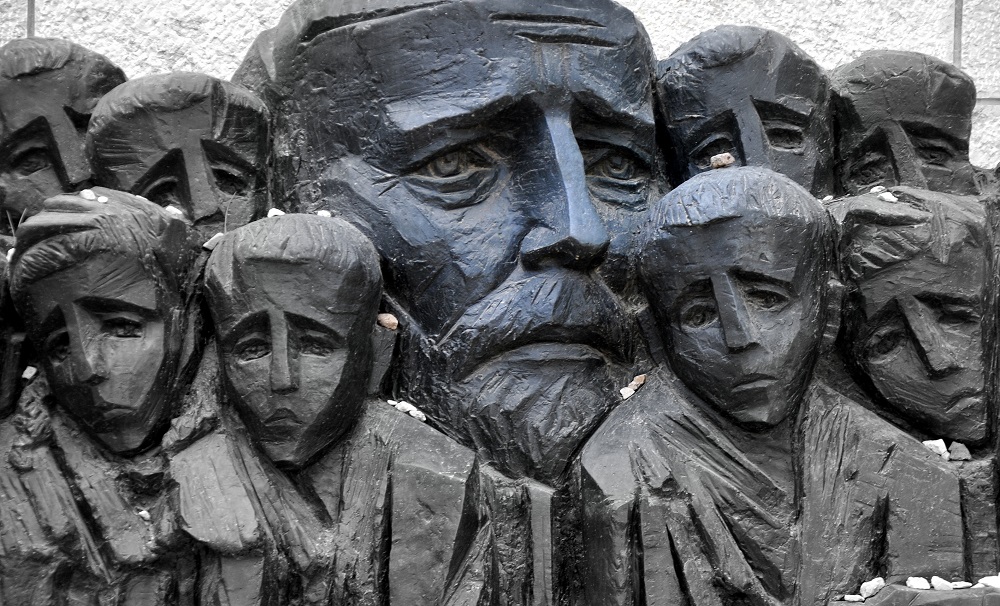 Yad Vashem brings a weighty but meaningful note to today's touring. This is the Israel's official monument to the Holocaust, located on the western slope of Mount Herzl on the Mount of Remembrance in Jerusalem. The museum has justifiably achieved international acclaim for its in depth and powerful portrayal of extremely challenging material. The complex includes the Holocaust History Museum, the Children's Memorial and the Hall of Remembrance, The Museum of Holocaust Art, sculptures, outdoor commemorative sites such as the Valley of the Communities, a synagogue, a research institute with archives, a library, a publishing house, and an educational center named The International School for Holocaust Studies. Children under 10 are not permitted to enter the main historical museum.
Mahane Yehuda Market Tour & Lunch
Start time: 1:00 PM
The Luxury Small Group Tour to Israel won't let everyone to miss Mahane Yehuda Market where you will find yourself surrounded by a plethora of sights, smells and tastes, and the colourful hustle and bustle of Jerusalem life. Your expert culinary guide will show you little known, hidden away gems, and will also explain how Mahane Yehuda serves as a symbol of Israel's immigrant culture. You will see foods from all parts of the world, and will understand how culinary trends have mixed and influenced each other – just as immigrants from the four corners of the world have preserved their own traditions, and yet integrated to create a unified Israeli culture. The tour lasts for about two hours and includes plenty of tastings. Lunch is included so fear not – you will not be left hungry! Lunch is included in today's tour – have no fear you will not be hungry at the end of this tour!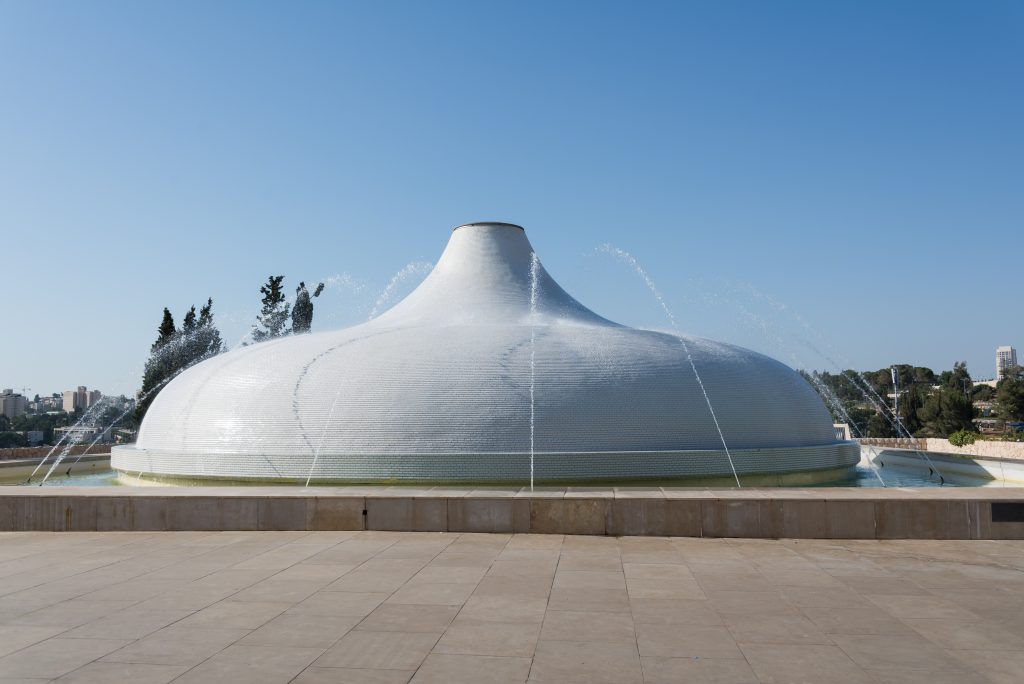 The Israel Museum is surely one of Jerusalem's treasures. Following a multi-million dollar renovation the museum has received international acclaim and has been named one of the ten most impressive museums in the world. The Israel Museum is home to the Dead Sea Scrolls (the Shrine of the Book) – the oldest known copy of the Bible. You will learn about the remarkable story of these manuscripts, the sect who most likely wrote them, and how they were discovered. You will also visit the celebrated model of second temple Jerusalem. Time allowing you will also visit the grounds of the Knesset building and the famous Menorah statue. Your guide will provide background on the make-up of the Israeli political system and the nature of Israeli democracy and party politics.
Overnight in Jerusalem at a hotel.
Day 5. Tuesday. Tsfat, Akko, Caesarea National Park
Private Guided Day Tour – with vehicle
Start time: 8:30 AM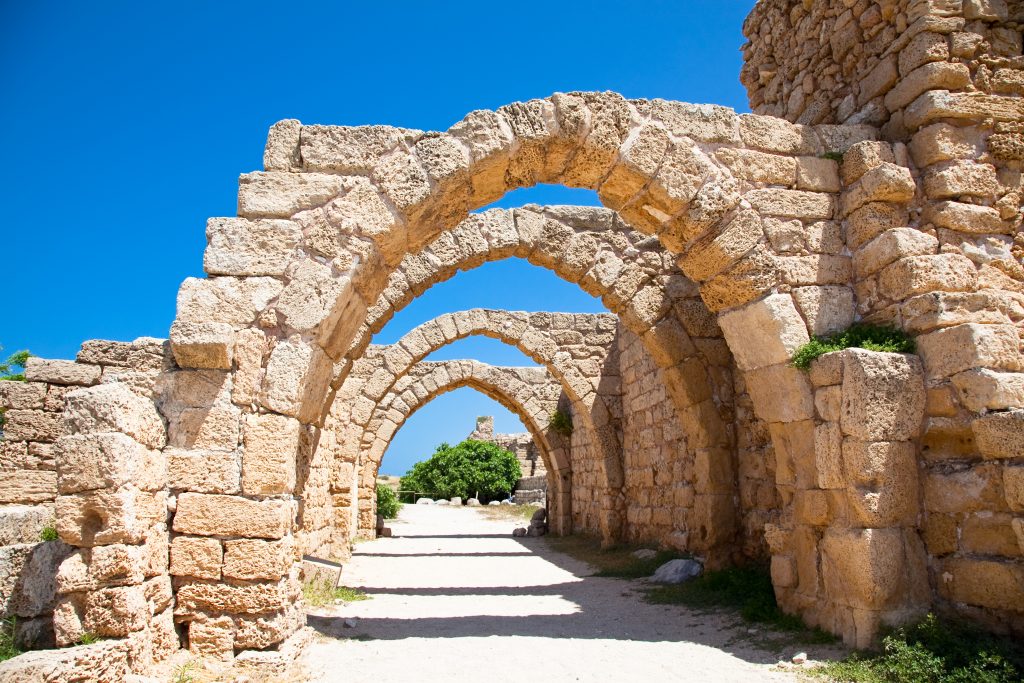 Caesarea was King Herod the Great's imposing port town, where Rome was honoured with temples, gladiators fought each other to the last, and games were played in celebration of the King and the empire. Later, Caesarea became a thriving Byzantine town, and then a Crusader conquest, each civilisation leaving its archaeological gems. For Christians Caesarea is of significance because of the stone tablet found near the amphitheater which is inscribed with the name Pontius Pilate, and dedicated to Tiberius Caesar who nominated him as procurator. Caesarea is also the place where the Apostle Paul was sent to stand trial, and as a Roman citizen demanded judgment in front of the Emperor. Your expert guide will tell the tales of this once centrally important place, while you enjoy the fresh sea air.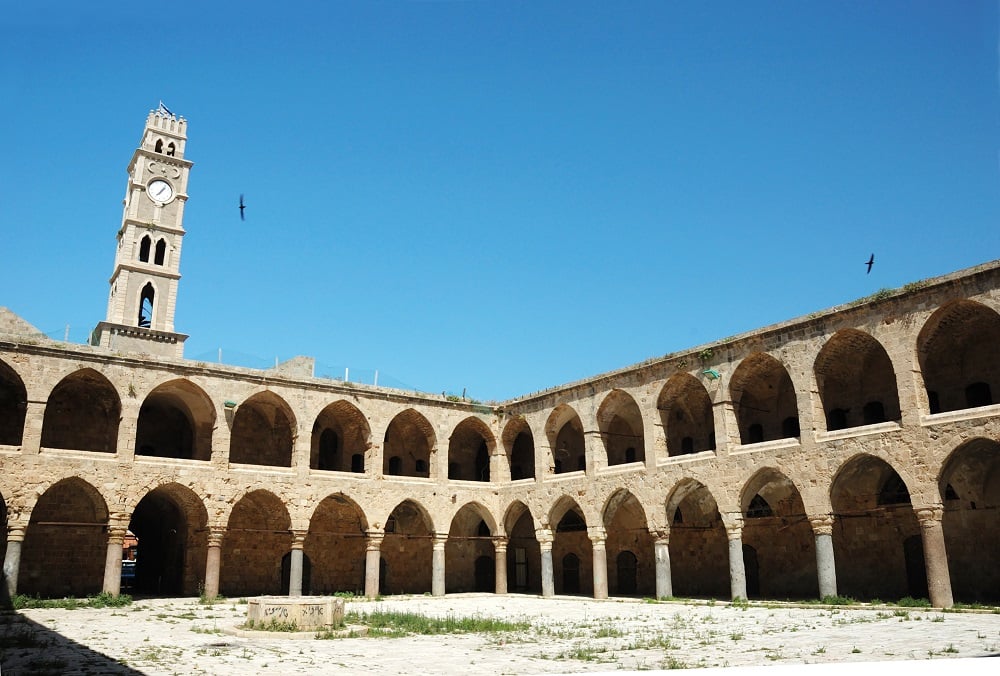 The Old City of Akko is well deserving of its UNESCO world heritage site status. Akko boasts stunning Crusader remains which are so complete you'll feel transported in time. As your guide recounts Crusader tales, you will marvel at the halls of the Knights Hospitalier, and "escape to the sea" through underground runaway tunnels.
Tsfat is the ancient mystical centre of kabbalah, where you will wander through time worn cobbled streets, exploring age old synagogues, ducking in and out of art galleries, craft shops and charming cafes. Tsfat's historical sites are diverse: from the graves of important Rabbis, to the impressive crusader Citadel, and the Great Stairs built by the British to separate Jews and Arabs. Tsfat is a magical place where the ancient stones invite you to reach and touch them, to feel the layers of human history, and the breeze asks you to listen out for the tales it whispers.
Dinner and overnight in the North, at Mitzpe Hayamim Hotel.
Day 6. Wednesday. Tel Dan National Park, Nimrod Castle, Golan Heights Jeep Tour
Private Guided Day Tour – with vehicle
Start time: 9:00 AM
Tel Dan is a wonderful site, combining nature and the great outdoors with biblical remains from the times of King Jeroboam. Together with your expert guide the Small Group Tour to Israel will follow a family friendly trail which runs over water and through lush greenery, and is wonderfully refreshing on hot days. You will explore biblical remains and learn about the stone table found here, dating to the second half of the 9th century BCE. Carved onto it is an inscription of Hazael, King of Damascus, in which he boasted of his victory over the King of Israel and the House of David. This is of huge significance as it is the first time that the name "House of David" was discovered outside of the Bible.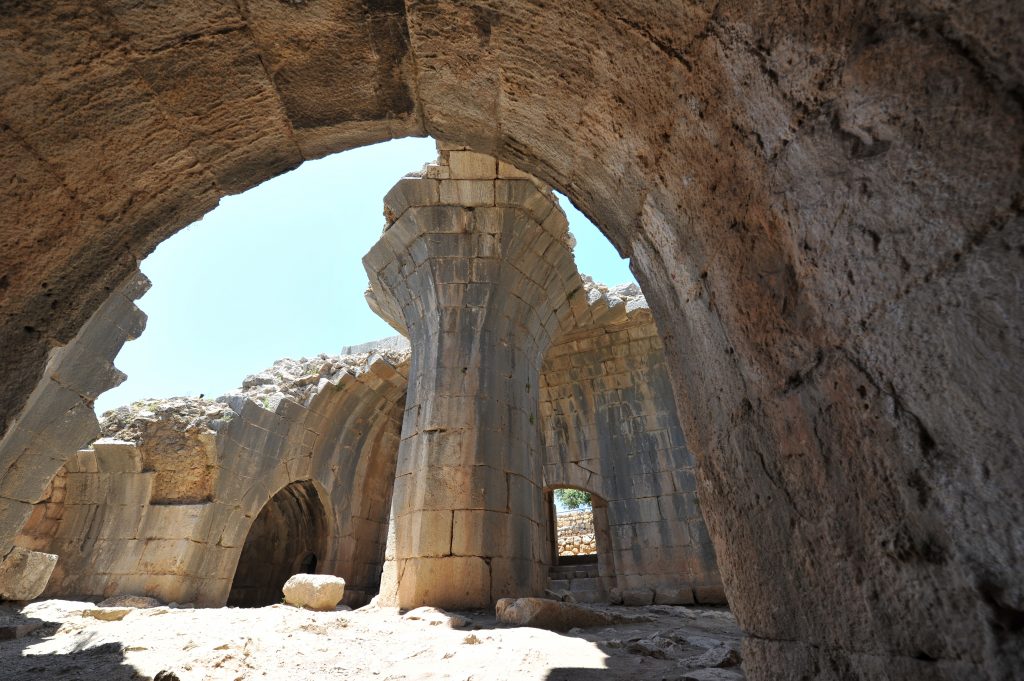 High up in the Golan, on the ridge of Mount Hermon, lies Nimrod Castle, an abandoned Crusader period castle. Here you will be presented with a fantasy landscape. The castle is huge, and beckons to be explored. As your guide will explain, although Crusader in period and style, the castle was built by by Al-Maliq al-'Aziz 'Othman in 1228 in order to block the passage of Friedrich II who threatened to march from Acre to Damascus flying the Crusader banner. It was extended and aggrandised by the Mamluk Sultan Beibars, whose insignia remains on a huge stone tablet. This is a massively exciting site which sparks the imagination of all who visit it.
Digging deeper into the story of the Golan, you will visit El Rom kibbutz which is interesting for two reasons. Firstly, you will see how kibbutzim have had to modernise, turning away from exclusively agricultural industry, and secondly you will see a real example of such modernisation – in this case, the kibbutz's film dubbing industry. Thus you will view one of their films which focuses on the experiences of a group of Israeli soldiers in the 1973 war (also referred to as the Yom Kippur war), which took place very close to the kibbutz. Through the use of original film and audio, the movie portrays this fierce tank battle from the viewpoint of Avigdor Kahalani, the Israeli commander at the battle of Emek HaBacha (the Valley of Tears). Time allowing, the next step is the close by 'Valley of Tears' – the spot where the four day long battle depicted in the movie actually took place. Please note that film viewings at El Rom are always subject to last minute re-confirmation as the kibbutz cannot always guarantee in advance that the cinema will be staffed.
SPECIAL EXPERT LED TOUR: Golan Heights Jeep Tour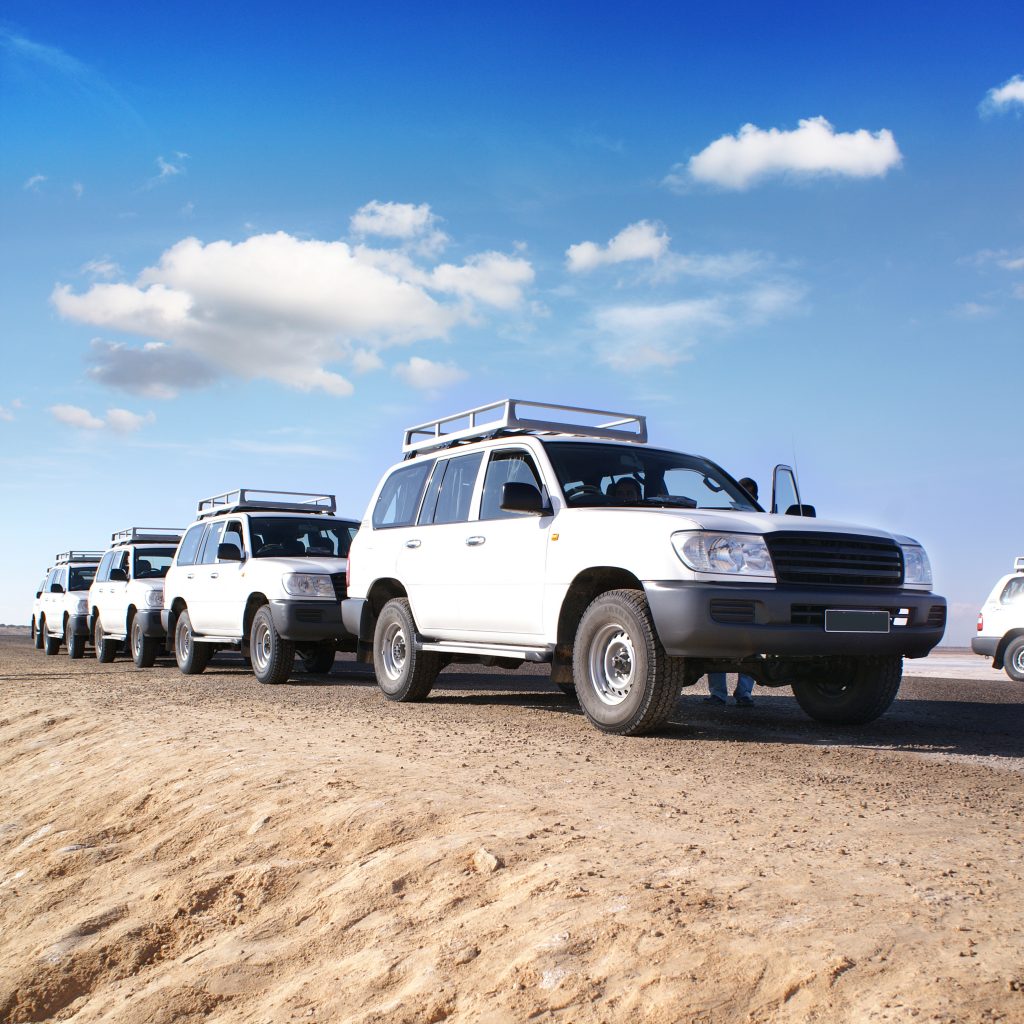 This Luxury Small Group Tour to Israel features a fascinating and intense 'off the beaten track' experience – two hour jeep ride. Your expert guide will drive you through a working agricultural kibbutz, explaining about the pace and style of life in this region of Israel. You will also explore the history and current day reality of kibbutz life from the historic 'childrens' house' system to today's need to diversity and modernise.
You will then drive off road into the demilitarised zone and along the Syrian border (security conditions allowing), viewing hidden Israeli army bunkers and positions. Your expert guide will provide background on Israel's historical and current relations with her northern neighbours, together with an in-depth analysis of today's complex situation in Syria and what it means for Israel.
Dinner and overnight in the North, at Mitzpe Hayamim Hotel.
Day 7. Thursday. Zippori National Park, Winery Visit, Sea of Galilee
Private Guided Day Tour – with vehicle
Start time: 9:00 AM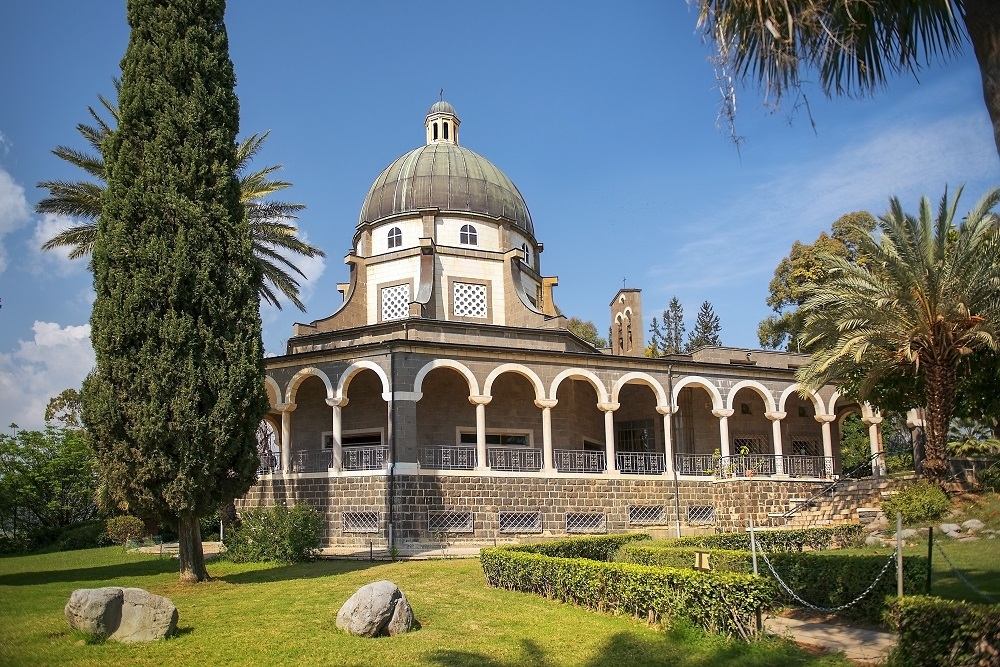 Ancient Jewish communities thrived around the Sea of Galilee, as testified by several remains of early synagogues, examples including those at Capernaum, (and also Chorazin, and Hammat Tiberias which are viewed on longer tours). It was amongst these communities that Jesus chose to live and preach, and the area is therefore also replete with important Christian sites.
Your expert guide will lead the Small Group Tour to Israel to key sites including the Mount of the Beatitudes (where tradition holds that Jesus delivered the famous Sermon on the Mount); Capernaum, interesting for both the early octagonal church built around the house of Peter, and for the later and ornate 5th century synagogue; and the "Jesus Boat", a boat dating back to the time of Jesus, found and now exhibited at Kibbutz Ginosar. We love the boat for the air of mystery which hangs over it –together with your guide you will be able to discuss who the men (or women?) were who sailed the boat 2000 years ago. Was it a fishing boat used by disciples of Jesus? Or a military boat used by Jewish resisters against the Romans? Thinking about who owned the boat, and what it was used for, helps us to consider the various different communities living around the Sea of Galilee at this crucial time in history.
From ancient wine presses to modern day boutique wineries, the nectar of the vine has a long history in Israel. Our Small Group Tour to Israel will therefore stop at one of Israel's award winning wineries for an explanation about the wine-making process, and of course for a wine tasting. Each winery has its very own story, so listen out carefully for the story of these bottles. We have included a little bite to eat as well, so fear not – you will not go hungry!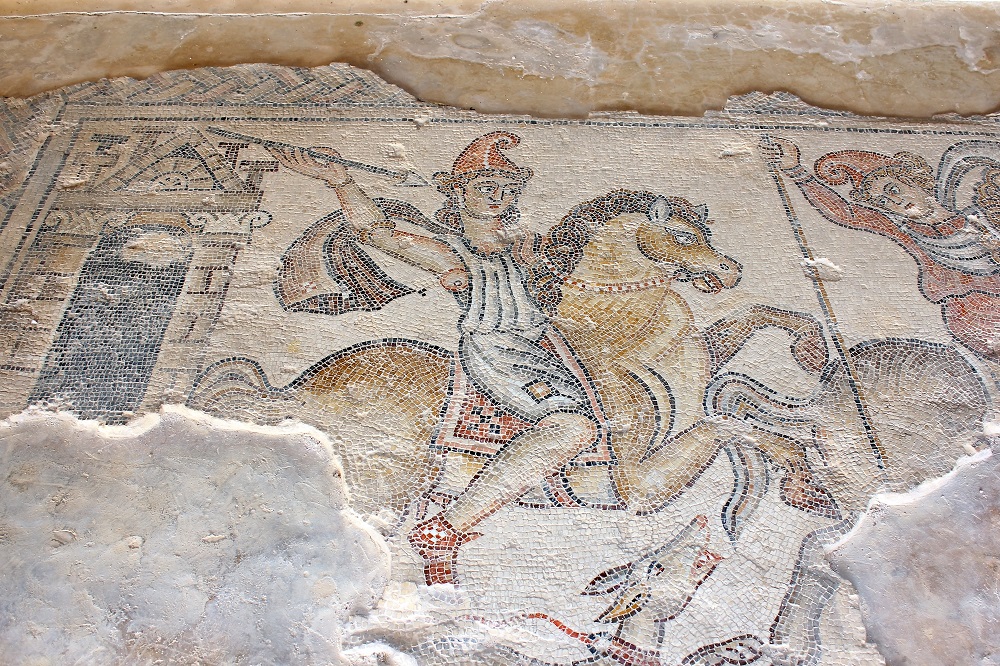 Your guide will take you to an incredibly beautiful site – Zippori, described by Josephus as "the ornament of the Galilee". Zippori was the Galilee's major centre of commerce from the time of the reign of Herod, through the birth of Jesus, and it is probable that Jesus would have worked in Zippori as a craftsman.
In Jewish terms, Zippori is hugely important as the place where the Mishna was redacted by Rabbi Yehuda HaNasi in 220 CE, and modern Judaism was therefore given shape. Evidence of the city's former glory and sophistication is today seen in the stunning mosaic floors which remain. Of major interest are the 'Mona Lisa of the Galilee' (pictured below), the Nile Mosaic, and the floor of the 6th century synagogue. Zippori's remains also include a Crusader fortress and Roman theatre which once seated 4500 people. In Christian heritage the site has significance as the town of origin of the Virgin Mary and her parents.
Overnight in the North at the Royal Beach hotel.
Day 8. Friday. Mahon Ayalon, Ancient Jaffa and Modern Tel Aviv
Private Guided Day Tour – with vehicle
Start time: 9:00 AM
Mahon Ayalon was an underground bullet factory built by the Palmach during the period of the British Mandate. This interactive museum demonstrates the ingenuity, determination and courage of the early Zionists. This is an inspiring story of creativity and innovation, and of thinking outside of the box. You will find the story as moving as it is ingenious.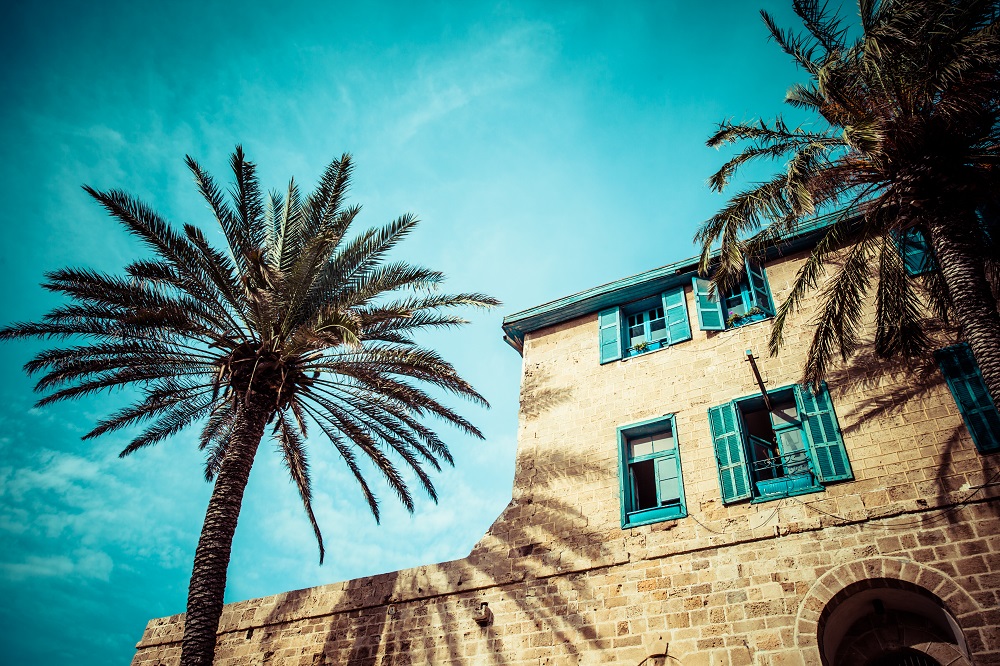 Ancient Jaffa and modern Tel Aviv are wonderful to tour together because of their contrasts. In Jaffa you will explore one of the most ancient ports in the world, replete with history from Biblical, ancient Egyptian, Roman, Napoleonic eras and more. Visiting Neve Tzedek, Tel Aviv's prettiest and oldest neighbourhood, you will hear the story of the city's beginnings – how the first modern Hebrew city was molded out of the barren sand dunes in an out-pouring of ideological vision and determination.
Continuing into more central Tel Aviv, the Small Group Tour to Israel will visit Rothschild Boulevard and Independence Hall (from the outside) where David Ben Gurion famously declared the independence of the modern State of Israel. You will note the various architectural styles of the buildings – from eclectic to Bauhaus – and hear stories about the waves of immigration who designed and created these remarkable buildings. The Bauhaus buildings are internationally significant and Tel Aviv's UNESCO world heritage status is thanks to them.
Overnight in the North at the Royal Beach hotel.
Day 9. Saturday. Tel Aviv to Mitzpe Ramon Transfer
Morning at leisure in Tel Aviv. This afternoon the Luxury  Small Group Tour are heading  from Tel Aviv to Mitzpe Ramon by a comfortable air conditioned vehicle with plenty of room for luggage.
Dinner and overnight in Mitzpe Ramon, at the hotel Beresheet.
Day 10. Sunday. Crater Jeep Ride
SPECIAL EXPERT LED TOUR: Crater Jeep Ride
Start time: 9:00 PM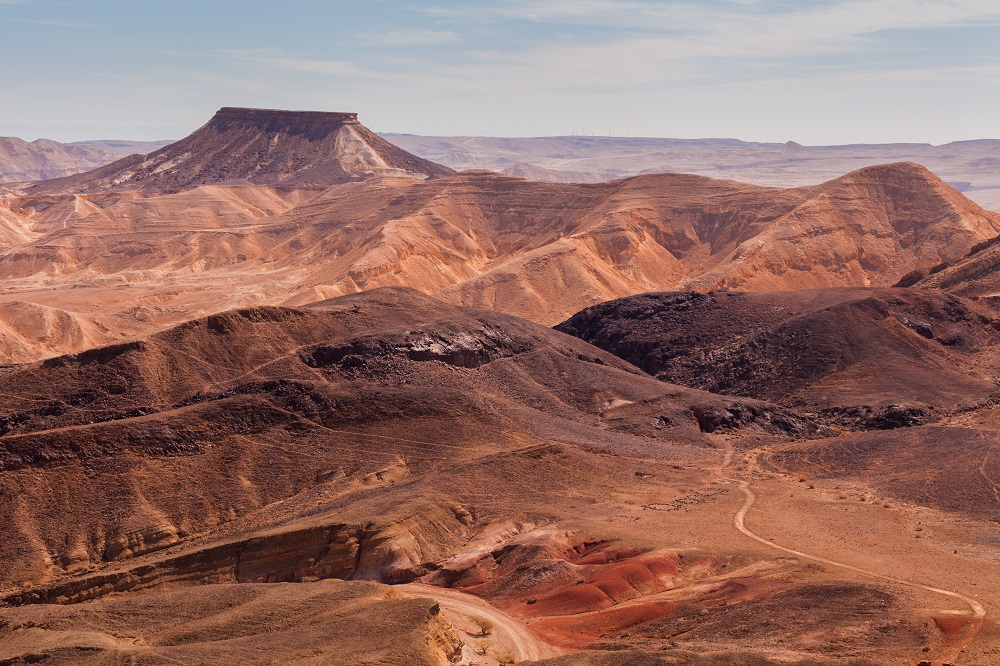 Your guide will meet you in the lobby of your hotel. Boarding your jeep, you will first stop on the edge of the Ramon Machtesh at the top of the Atzmaut Ascent. After a short explanation at the viewpoint you will descend into the Machtesh and cross half its width to Wadi Ramon where you will stop to hear story about what a Machtesh is and how it was formed. You will continue across the floor of the Machtesh to the summit of Mt. Gvanim which offers a stunning view of the entire Machtesh and from there along Wadi Gvanim stopping in the shade of an Accaia tree to get known about the flora and fauna of the region before returning to Mtzpe Ramon.
Dinner and overnight in Mitzpe Ramon, at the hotel Beresheet.
Day 11. Monday. Departure
You will be transferred from Mitzpe Ramon to Ben Gurion airport in a comfortable air conditioned vehicle with plenty of room for luggage. The group transfer time is based on late evening or night time flights. We hope you will be returning home with many special memories and that you will come back to visit us soon.
Land package rates 2019:
March 22 – April 1, 2019:
$ 4,999 US per person based on two people sharing a room*
*For bookings received and paid in full before October 31st   2018
$ 5,199 US per person based on two people sharing a room**
**For bookings received and paid in full after October 31st  2018
$ 1,699 US – Single Supplement
September 6-16, 2019:
$ 4,999 US per person based on two people sharing a room*
*For bookings received and paid in full before May 31st  2019
$ 5,199 US per person based on two people sharing a room**
**For bookings received and paid in full after May 31st  2019
$ 1,699 US – Single Supplement
The land rate includes:
Accommodation
Tours
Meals
Transportation and transfers as set out in the above itinerary.
Where you are touring with a private guide the associated costs of entrance fees and guide overnight accommodation (where required) are included.
The land rate excludes:
Flights.
Travel insurance.
Meals unless specifically stated as included.
Anything stated to be optional (meals, beverages, touring, evening outings).
Entrance fees where you are not travelling with a private guide.
Early check-in, late check-out.
Any surcharge levied on payment by Credit Cards.
Any changes you may choose to make during your holiday.
Israeli hotel, touring or other taxes payable by law by Israeli Citizens.
Telephone, laundry or any personal items.
Tipping.
Hotels:
Jerusalem: Orient Hotel, March 22-26 / September 6-10, 2019
North: Mitzpe Hayamim, March 26-28 / September 10-12, 2019
North: Royal Beach, March 28-30 / September 12-14, 2019
Mitzpe Ramon: Beresheet, March 30-April 1 / September 14-16, 2019
Please note:
The Small Group Tour is operated for minimum 6, maximum 16 people.
Although airfare is not included in this program, we are able to suggest economy class round trip airfares. Please note the airfare suggested is subject to change without prior notice and is not guaranteed until such time as the ticket has actually been issued.
Pre- and post- tours are available upon request.