Beijing, Xi'an, Yangshuo, Shanghai – China
Day 1. Monday. Arrival in Beijing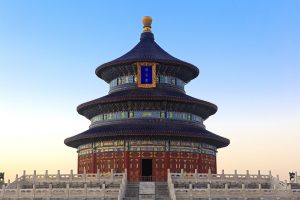 Arrive in Beijing. Meet your Chinese group leader at the airport and transfer to the Hotel. At dinner, your group leader will brief you about the entire trip in China.
Overnight in Beijing at Crowne Plaza Hotel. (D)
Day 2. Tuesday. Beijing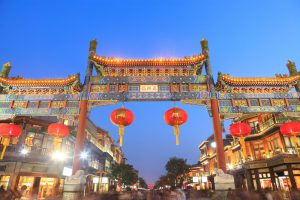 Breakfast. This morning, begin your acquaintance with the China culture by visiting the most holy of Beijing's imperial sites – the 600-year-old Temple of Heaven, situated in the southeastern part of the central Beijing. On the route see other master pieces of Chinese ancient architecture, as well as local people doing morning exercises in the vast park. After lunch, visit the extravagant Imperial Palace in the Forbidden City – the essence and culmination of traditional Chinese, and at the same time it's considered the largest ancient palatial structure in the world. This evening join a special local delicacy dinner for Beijing Duck.
Overnight in Beijing at Crowne Plaza Hotel. (B, D, L)
Day 3. Wednesday. Beijing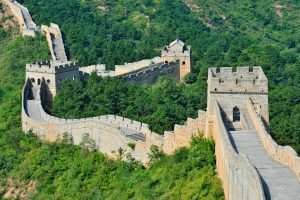 Breakfast. Today experience one of the highlights of your trip as you visit the renowned Great Wall of China. On the way, take a look at the iconic "Bird's Nest"- the National Stadium – host to the 2008 Olympics (traffic permitting). As soon as you arrive at the amazing Great Wall, walk along its ramparts as emperors and his soldiers once did. After returning to the city, take a walk in the Tian'anmen Square, the heart of the Chinese nation. The rest of the afternoon is at leisure to explore on your own.
Overnight in Beijing at Crowne Plaza Hotel. (B)
Day 4. Thursday. Beijing – Xi'an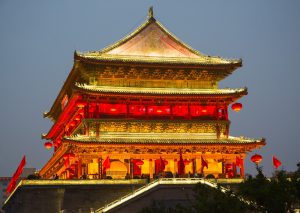 Breakfast. This morning visit the Hutong area, representing the traditional way of life in Beijing. Sip tea in the most beautiful 600-year-old Bell Tower in the center of the city. After a home-hosted lunch, take a fast train to historic Xi'an, the ancient capital of China for many dynasties. Check-in at the hotel in the heart of the city. Dinner.
Overnight in Xi'an at Grand Noble hotel. (B, L, D)
Day 5. Friday. Xi'an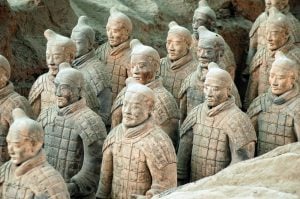 Breakfast. View the extraordinary life-sized Terra-Cotta Army, no two alike, buried for over 2200 years, and the Bronze Chariot. Take an opportunity to experience a perfect film technique created on a 360° projection at the Circle Vision Movie. In the afternoon, continue to the city's landmark building, the Big Wild Goose Pagoda, enjoy a fountain dance with music in front of the beautiful 1300-year-old structure. Afterwards, visit university teaching staff's home in those typical high-rise apartment buildings. Learn about average Chinese life in the cities. Dinner. Overnight in Xi'an at Grand Noble hotel. (B, D)
Day 6. Saturday. Xi'an
Breakfast. Time to give your muscles some exercise, as we will start the day with a traditional Tai Chi lesson led by your Chinese group leader. You will appreciate to learn about this graceful ancient healing art. After breakfast, continue on a walking tour in the historic Xi'an, including a visit to the Muslim Quarter. It is here one can feel the history of bazaars and markets of the Silk Road, which once upon a time began in Xi'an. After Lunch, enjoy free time to explore Xi'an further. In the evening, time for the mesmerizing Tang Dynasty Dinner Show.
Overnight in Xi'an at Grand Noble hotel. (B, L, D)
Day 7. Sunday. Xi'an – Yangshuo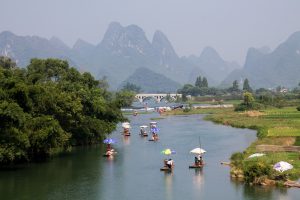 Breakfast. This morning fly to Guilin and drive to Yangshuo, a small county town diverse in culture and exotic flavors. Check-in at the hotel beautifully located on the bank of the Li River. After a lunch, experience the tranquility while float on small bamboo rafts down the more peaceful and scenic parts of the river, surrounded by the green limestone hills. Continue your journey by open electric carts for a tour into the countryside for a visit to villages hidden among the mountains. While China has developed rapidly, here the people still use water buffaloes to work in the rice fields, which, for many people, is "what I expect China to look like". Dinner.
Overnight in Yangshuo at Green Lotus hotel. (B, L, D)
Day 8 Monday Yangshuo.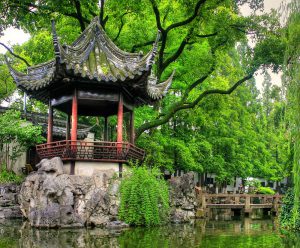 Breakfast. In the morning, continue your Tai Chi lessons with your group leader in this most ideal setting. Then, we will start our new learning experiences. In a nearby village, Chinese cooking lessons begin with grocery shopping in local free market, followed by hands-on culinary practice with instructions from the local gourmet. For lunch, eat what you just have cooked! In the afternoon, join the local artist for a lecture and demonstration of Chinese landscape painting. Yangshuo is just the perfect place to learn it. In the evening, watch the most spectacular and unique water and light show on the Li River "Impression Sanjie Liu", directed by Yimou Zhang, the No.1 movie director in China, also the director of the opening ceremony of 2008 Beijing Olympics.
Overnight in Yangshuo at Green Lotus hotel. (B, L)
Day 9. Tuesday. Yangshuo – Guilin – Shanghai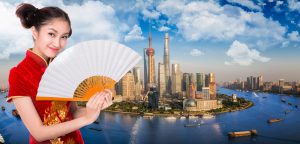 After breakfast drive to Guilin's airport and fly to the cosmopolitan city of Shanghai. Enjoy traveling by the Maglev train from the airport to the city, experience the 270 mile/hour speed. After check-in at the hotel, enjoy free time followed by dinner. The remainder of the day is at leisure for you to explore this international city on your own.
Overnight in Shanghai at Equatorial hotel. (B, D)
Day 10. Wednesday. Shanghai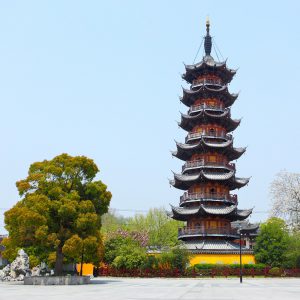 Prior to breakfast, join local people in the quaint Jingan Park right outside the hotel and continue with your Tai Chi lessons. After breakfast, visit the Shanghai Museum, showcasing priceless collections. Next, drive to the outskirts of the city for a special visit to the 1,700-year-old Longhua Temple. Here you will be served a strictly vegetarian lunch based upon Buddist traditions. En route back to the hotel, stop at a renowned silk factory, an ancient industry that started from the Yangtze delta.
Overnight in Shanghai at Equatorial hotel. (B, L)
Day 11. Thursday. Shanghai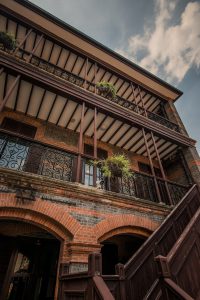 Breakfast. In the morning, head for the Bund river front to start a tour illustrating the remarkable history of Jews in Shanghai. Hear extraordinary story about Jewish immigration and visit important sites around the Hongkou district, also known as the Shanghai Ghetto, where thousands of Jewish refugees found their shelter during World War II. For one hundred years, from 1850s to 1950s, Jews made an important cultural impact on the economic and development of Shanghai. After lunch, visit the elegant 400-year-old Yu Garden, the masterpiece of southern Chinese gardening and landscaping. This evening, meet for farewell dinner.
Overnight in Shanghai at Equatorial hotel. (B, L, D)
Day 12 Friday Journey Home.
After breakfast, transfer to Shanghai airport for your international flight home.
2018 Tour Dates:
May 20 – June 1
October 8 – October 19
Land package price:
$ 3,490 USD per person based on double occupancy
$ 1,090 USD Single supplement
Land cost includes:
Accommodation in First Class hotels* with great locations based on double occupancy in rooms with private facilities
All transfers, sightseeing & touring in deluxe air-conditioned vehicles
All domestic flights within China
Buffet Breakfast daily at the hotels
11 Full Breakfasts, 07 Lunch, 08 Dinners
In-depth sightseeing program
Insightful visits and special experiences
Learn Chinese painting, cooking and Tai Chi (3 lessons)
All entrance fees as per the itinerary
Your land cost does not include:
International flights
Departure taxes/fuel surcharges or airport improvement fees subject to change without prior notice
Travel insurance – non-refundable insurance premium
Documentation including passport fees
Early check in and late check out
Single room supplement – a limited number of single rooms is available on payment of supplement
Optional pre-, post or other private tour arrangements
Services not mentioned
Meals not mentioned
Beverages not specified
Gratuities for individual services such as laundry and valet service or any other items of a purely personal nature
Tips to drivers/local guides/hotel and restaurant staff – tipping is at the discretion of the traveler
Visa to China
E. & O.E.
*
Hotels:
Beijing, 3 nights – Crowne Plaza hotel
Xi'an, 3 nights – Grand Noble hotel
Yangshuo, 2 nights – Green Lotus hotel
Shanghai, 3 nights – Equatorial hotel
Note:
Although airfare is not included in this program, we are able to suggest economy class round trip airfares. Please note the airfare suggested is subject to change without prior notice and is not guaranteed until such time as the ticket has actually been issued.
Pre- and post- tours are available.