Day 1 – Saturday, April 21, 2018
Arrival at Hda. Itzincab Camara.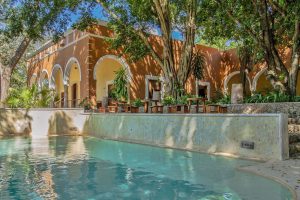 Your driver will bring you to the lovely Hacienda Itzincab Cámara, built on an ancient Maya site which has a large pyramid at its heart. Itzincab's lush gardens, featuring three
swimming pools, surround the property, are home to an abundant variety of bird life. Room distribution makes this hacienda an ideal location for family reunions or retreats.
In the evening enjoy a welcome cocktail with live music followed by dinner.
Overnight at the hotel Hacienda Itzincab Cámara. (D)
Day 2 – Sunday, April 22, 2018
Yoga, Maya artisans and Cooking Class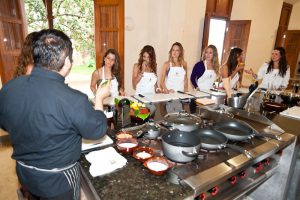 This morning enjoy a morning session of energizing yoga in the gardens of Itzincab.
After breakfast, visit the surrounding artisan's workshops. While making your own piece of art, learn about the daily life of the community.
Late afternoon head to Hacienda Tekik de Regil, the region's most magnificent private hacienda, a truly singular property for travelers seeking an absolutely one-of-a-kind experience. A local celebrated chef will host a cooking class.
Lunch is served at the terrace and there's also time to swim in the magnificent pool.
Overnight at the hotel Hacienda Itzincab Cámara. (B, L, D)
Day 3 – Monday, April 23, 2018
Birdwatching at Uxmal, Meditation at Xocnaceh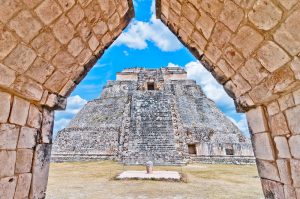 Take a private guided birdwatching tour of Uxmal, famed for their elaborate Puuc style architecture, whose principal buildings are aligned to observe astronomical events. The word "puuc" is derived from the Maya term for "hill". Visit the Pyramid of the Magician and the Palace of the Governor— the most admired pre-Hispanic Mexican structures. Continue to the Nunnery Quadrangle – one of the most representative archaeological sites of Maya culture, to view the House of the Turtles, a smaller building so called for its frieze of sculptured turtles.
Take an exclusive invitation to visit a private property Hacienda Xocnaceh. At its zenith, Xocnaceh produced cattle and henequen (sisal), the "green gold" that brought tremendous wealth to the Yucatán in the late 19th and early 20th centuries. A Maya ceremony and guided meditation will take place at the archaeological site – the oldest in the region.
Enjoy a delicious lunch in the chapel ruins at Xocnaceh and afterward, there's swimming in the water tank, converted into a pool or just plain relaxation.
Overnight at the hotel Hacienda Itzincab Cámara. (B, L, D)
Day 4 – Tuesday, April 24, 2018
Merida markets, museums and dances
Today we explore Merida, a city that preserves its rich architectural heritage like no other. Travel its shady avenues, lined with exquisite mansions from the end of the 19th century, when henequen wealth reached its zenith and the fiber's producers sought to reaffirm their prestige and world-view in architecture. Visit the market, cathedral and famous restored buildings in the city center.
The tour proceeds to a private mansion in downtown where we will learn how to dance "the Jarana", the traditional dancing of the Yucatan. Enjoy lunch in one of Merida's fine restaurants. This afternoon is at leisure to explore the galleries, museums and shops.
Overnight at the hotel Hacienda Itzincab Cámara. (B, L, D)
Day 5 – Wednesday, April 25, 2018
The city of Izamal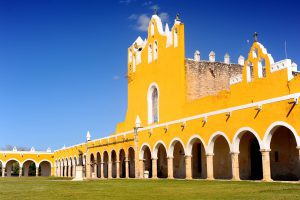 This afternoon is all about incredible Izamal—where almost every structure is egg-yolk yellow! But Izamal is no mere tourist trap—it's a living Maya town and art colony. With a professional guide enjoy a bike adventure to see all of Izamal's principal sites and learn about its intriguing blend of Maya, Spanish and modern cultures. Continue to visit Maya artisans' homes and workshops and witness the creation of their magnificent crafts. Lunch is served in a private villa, where we will enjoy a tequila tasting.
Style and sophistication are hallmarks at Home tonight is Casa de los Artistas ("the Artists' House"). Don't be fooled by its modest entrance: past the threshold lies a splendid dwelling that combines traditional architecture with modern touches, creating a unique
setting where each room displays its own one-of-a-kind character.
Overnight at the hotel Casa de los Artistas. (B, L, D)
Day 6 – Thursday, April 26, 2018
Chichen Itza and Xocempich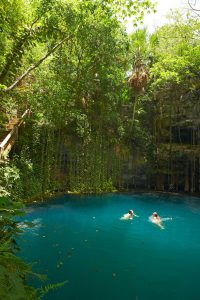 Our journey begins at Chichen Itza, the pre-Hispanic world's most celebrated archaeological site. Originally built by the Maya, later conquered by Itzás, and Toltecs, and ultimately defeated by princes of Mayapán. Visit the world famous Castillo, a pyramid recently declared one of the Seven New Wonders of the World. We also visit the site's other principal constructions and then the Sacred Cenote, where sacrificial offerings have been found. For a refreshing treat head to Xocempich, a private cenote on the ruins of an historic ranch. A cenote is a natural pit, or sinkhole, resulting from the collapse of limestone that exposes  groundwater underneath. Swim or snorkel in the cenote's crystalline waters and relax for hours in total privacy. A delicious fête champêtre-style lunch is served beneath the magnificent old trees.
The night ends at the roof-top lounge of Casa de los Artistas, an ideal perch for a night of stargazing. Live music is served while we enjoy a special farewell dinner.
Overnight at the hotel Casa de los Artistas. (B, L, D)
Day 7 – Friday, April 27, 2018
Departure to Merida airport
Your driver takes you to the Merida airport for your flight back home. (B)
Land package price per person: $2,947 USD based on double room occupancy and a minimum of 10 people traveling
Land cost includes:
Accommodation at the hotels* based on double occupancy (breakfast and dinner)
Airport arrival and departure transfers
Transportation as per itinerary with water and soft drinks in the vehicle
English speaking guide as per itinerary
Meals as specified above
Entrance fees
Your land cost does not include:
Round trip airfare
Departure taxes/fuel surcharges or airport improvement fees subject to change without prior notice
Insurance – non-refundable insurance premium
Documentation including passport fees
Early check in and late check out
Single room supplement – a limited number of single rooms is available on payment of supplement
Meals not mentioned
Beverages not specified
Optional tours not quoted
Gratuities for individual services such as laundry and valet service or any other items of a purely personal nature
Tips to drivers/local guides/hotel and restaurant staff – tipping is at the discretion of the traveler
E. & O.E.
*Hotels:
Itzincab: Hacienda Itzincab Camara – 4 nights
Izamal: Casa de los Artistas – 2 nights
Note:
Price based on a minimum of 10 people traveling
All services are subject to availability.
Prices may change until the services are confirmed
A similar program can be custom tailored for individuals based on sightseeing tours by private car.
Although airfare is not included in this program, we are able to suggest economy class round trip airfares. Please note the airfare suggested is subject to change without prior notice and is not guaranteed until such time as the ticket has actually been issued.
Special Tour Features:
Yoga & Artisan workshops
Maya ceremony and meditation
Cooking Class
Dance lesson
Bike tour in Izamal
Tequila tasting
Bathing in a private cenote
Birdwatching at Uxmal
Sunrise and sunset on Maya sites
Merida historical tour, museums and shopping